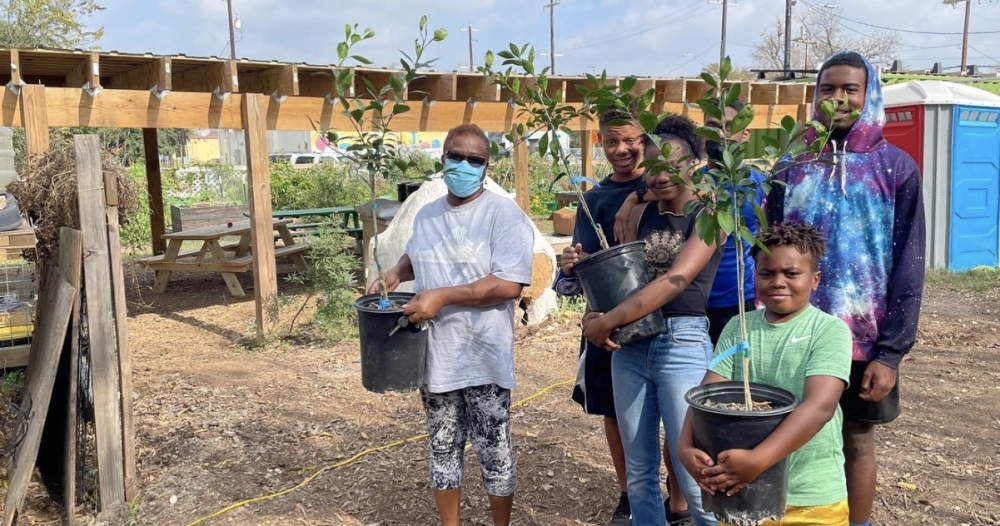 San Antonio Culinary Advocacy Group Honors 4 Laureates
Gardopia Gardens, an East Side nonprofit that uses an urban farm to educate the community about nutritious food and culinary sustainability, is one of four grant recipients from the San Antonio Food and Wine Alliance . (Courtesy of Gardopia Gardens)
The San Antonio Food and Wine Alliance announced that $ 17,000 in grants have been awarded to two local nonprofits and two local businesses, recognizing the winners' community projects designed to enhance the culinary scene and educational efforts of the city.
The Food Policy Council of San Antonio has received a $ 5,000 grant to support the construction of a patio for a gathering space in a 4-acre farm area to better provide visitors with programs and events, according to a statement. educational facilities, as well as bicycle racks and benches to increase accessibility.
The Agricultural Space is a community food forest that FPCSA is developing at Padre Park on the south side as a way to experiment with permaculture experimentation, provide indigenous agricultural education and address food insecurity, the statement said. .
Special Leaf, a locally sourced olive leaf iced tea company, received a $ 5,000 grant to Tito's artisanal vodka entrepreneurs to increase tea distribution through a strategic marketing plan and expansion of equipment, according to the press release. Special Leaf owner Chris Cook, a renowned local chef, also uses his tea brewing business to advance local food systems through Chef Cooperatives, a local nonprofit dedicated to promoting good. to be farms in south-central Texas via the farm-to-table movement.
Gardopia Gardens received a $ 5,000 HEB grant to support diversity and inclusion. The East Side nonprofit will use the money to develop rainwater infrastructure and add small livestock, chickens and bees to an urban farm overseen by the organization. Gardopia Gardens will also use the money to purchase gardening tools for children in the community served by the urban farm.
According to the statement, the non-profit organization aims to reduce obesity and malnutrition by increasing accessibility to fresh produce and implementing strategic intervention programs in schools, businesses and community organizations.
Local chef Tim "The Girl" McDiarmid and his restaurant The Good Kind received a $ 2,000 Truffle Masters scholarship. McDiarmid plans to use the funds to set up a living growth wall and garden with edible flowers, vegetables and herbs to use in on-site food preparation to support organized nonprofit and community outreach events. at the Southtown restaurant. The release said The Good Kind Series project will bring additional recognition to San Antonio's culinary and nonprofit communities through a social media strategy and a targeted hashtag campaign.
The alliance holds several charity culinary events each year to raise money for the grants, including Taco Rumble and the Wine and Dine dinner series.
"In our first year of awarding these grants, it is nothing short of remarkable to see continued innovation, talent and exceptional commitment to building such a strong local food community that we love in San Antonio. Grants president and alliance president Cathy Cochran-Lewis said in a statement. "It is an extraordinary honor to witness and support these projects.
The statement said the grant recipients were chosen by the alliance's grant selection committee, a panel made up of prominent cooking and community professionals. In addition, the selection committee announced an honorable mention recipient: Sassy Chef, a gourmet, gluten-free and plant-based meal delivery service.
The owner of Sassy Chef is Heather Larican, a chef, healthy food blogger, caterer and fitness instructor who uses her business to encourage nutritious eating in the San Antonio area through classes and a plan to develop a commercial kitchen.
"These incredible projects clearly demonstrate innovation and bring value to the community," said Acting SAFWA Executive Director Gina Burchenal. "We are very grateful for the community support we have received since our expansion to San Antonio last year, and it has enabled us to recognize these exceptional initiatives. "
For more information on SAFWA, visit www.sanantoniofoodandwiinealliance.org.