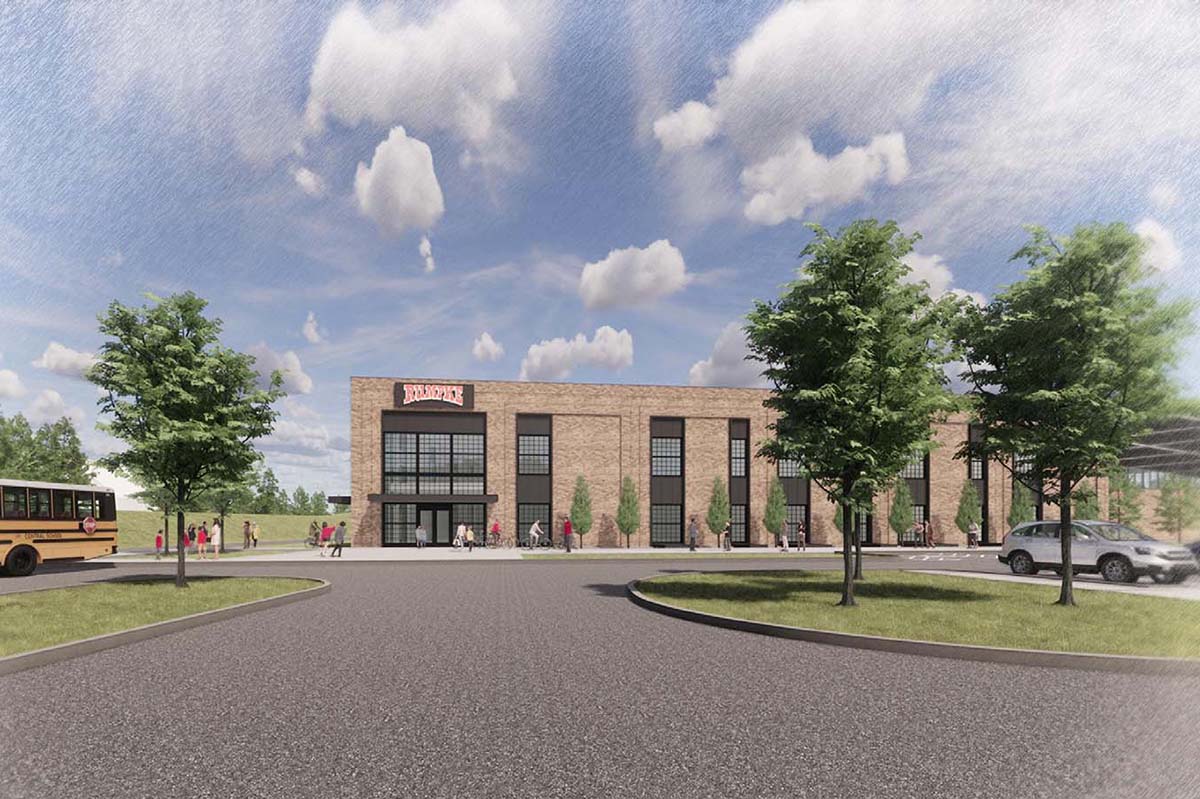 Rumpke looks to the tech future at the new MRF
Rumpke Waste and Recycling's new $50 million MRF is designed to adapt, with plans for the Columbus, Ohio facility set to accommodate future changes to the recycling stream.
"We're not designing in two years, we're not designing in three years, we're designing in 20 years," said Jeffrey Snyder, Rumpke's director of recycling, in an interview with Resource Recycling.
The 200,000 square foot facility will be built on 25 acres the company purchased nearly a decade ago on Joyce Avenue in Columbus in an effort to grow. About a mile and a half from a current Rumpke facility on Fifth Avenue, the Rumpke Recycling Resource Center will open in 2024, according to Snyder.
Snyder said the current facility is located downtown and houses not only an MRF that handles 13,000 tons per month, but more than 200 residential collection trucks, a transfer facility and the maintenance garage.
"If you come to our facility at 7 a.m., it's organized chaos. With all the trucks hitting the road, all the employees coming in, there's a lot going on," Snyder said. "So what a great opportunity to be able to build on what we did nine years ago and use the 25 acres of Joyce Avenue."
The new facility will allow Rumpke to process 50 tons per hour instead of the current 30 to 45 tons, Snyder said. It will also make it easier for the company to adapt to changes in the recycling stream and "start to recover more recyclables than we think we can do in the future."
"Recycling is moving in a positive way to be able to accept more products," Snyder said, pointing to polypropylene, pizza boxes and other materials that years ago weren't considered recyclable.
With the new facility, Snyder said Rumpke will begin separating PET substrates, including by color, before baling them.
The new MRF will place greater emphasis on research, career development and education. In partnership with The Ohio State University, the facility will contain a sustainability institute where Ohio State students and researchers can be "on site every day doing research projects," Snyder said.
There will be a career development, recruitment and training center and a community meeting space. Additionally, in partnership with the Center for Science and Industry (COSI), the facility will have a public education center to provide "hands-on and truly elaborate" explanations of the recycling process from the time people buy a product until it is made. into a new product, Snyder said.
Even the building's exterior will provide lessons, Snyder said, because it "won't look like MRF when you get there."
"It's going to be beautiful and we'll have environmental things, whether it's solar power or maybe a living green roof, we'll put some environmental touches to the facility to really help people understand what 'buckle up' is. the loop "and all the buzzwords out there mean," he said.
Once the MRF opens, the old Fifth Avenue facility will close and the space will be used for more truck parking, Snyder said. Old MRF equipment will be scrapped and recycled.
Technology makes it possible to expand the "accepted" list
While the new MRF will allow Rumpke to expand what it can handle, Snyder said the company isn't waiting for construction to begin. In January 2021, Rumpke began accepting plastic bins, and in February also took plastic, paper and aluminum cups.
Many paper mills that use mixed paper have approved accepting paper cups in mixed paper over the past year, Snyder said, including mills Rumpke has contracts with.
Rumpke is also improving sorting technology at an MRF he owns in Cincinnati. A $1.6 million project in June to add three Machinex SamurAI robots to the Cincinnati plant's Last Chance line, hitting PP, helped expand the list of accepted materials. A $775,000 grant from the Recycling Partnership helped offset the cost, Snyder said. Since then, two more robots have been added to the Cincinnati facility.
Meanwhile, at the downtown Columbus facility, an optical sorter has been reprogrammed to handle bins and now cups.
Rumpke didn't see a huge change in the volume of material going into MRFs with the additions, Snyder said. The changes will require a "change of mentality" on the part of the public, he noted. Paper cups from fast food restaurants are normally put in the trash immediately, but now "we need to register these things and put them in the right bin so they can be collected."
Rumpke is also looking to increase recovery rates by adding more technology to the last chance line and making upstream processing more efficient.
"In every MRF in the country I've been to, and I've visited a lot of them, there's a lot of recyclable material coming out at the end of the chain. There are things that are missing," Snyder said. "In the new MRF, we're not going to miss those things."
The key to all the growth Rumpke wants to see is technology, Snyder said, and it's already available.
"We want to continue to be at the cutting edge of technology. We want to be at the forefront and be first at the table in the Midwest when it comes to recycling," he said. "We think we are the experts on this. We feel we have the infrastructure to be able to handle all of that. The future is to have the technology to be able to do the things that we need to do inside MRFs.
More MRF Stories