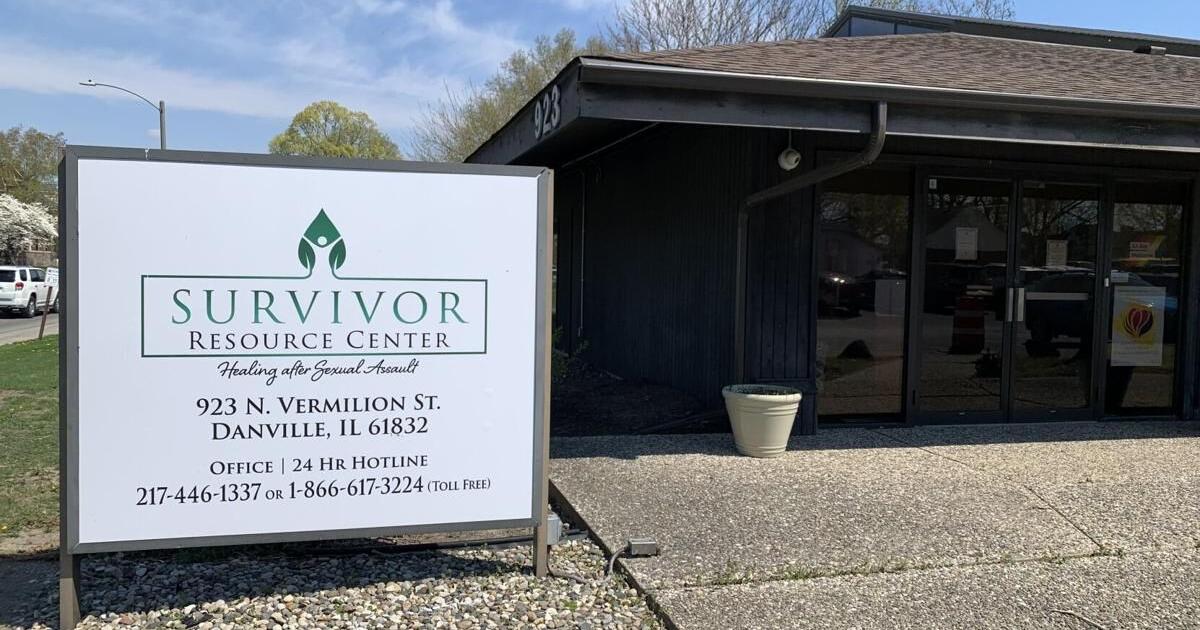 Resource Center for Survivors moves to downtown Danville | News
DANVILLE — The Survivor Resource Center is moving to a larger location in downtown Danville.
Now located at 923 N. Vermilion St. in Danville, executive director Marcie Sheridan said they hope to move into the new location, the first floor of the First Midwest Bank building in downtown Danville, 27 N. Vermilion St., early next month.
"We're looking forward to being part of downtown…" Sheridan said.
They will always rent their space, she said.
"We were outgrowing the space here," Sheridan said of the current site.
She said they have grown over the years and have been able to hire enough people to meet the demand for services.
The center received an $88,000 grant through the Illinois Criminal Justice Information Authority to hire two full-time prevention educators focusing on schools and after-school education. The three-year grant begins in February and they are currently looking to hire for educator positions.
The Survivor Resource Center (SRC) is already in Vermilion County schools, but they are looking to expand and offer after-school programs as part of their prevention work, Sheridan said.
The Illinois Criminal Justice Information Authority (ICJIA) announced grants totaling $4.5 million for fiscal year 2022 from the state's Community Violence Prevention and Response Program funds.
The SRC, formerly known as the Vermilion County Rape Crisis Center, moved to Danville from Tilton. It is a non-profit agency supported by grants and donations from the community. It is committed to ending sexual violence in the community and serves Vermilion, Edgar, and Clark counties in Illinois.
The RSC is among 31 organizations to receive grants to provide community engagement and support, prevention supports for children, youth and families at risk of being injured or harming others, and a long-term or ongoing trauma-informed support and services for both those injured by violence and those who have harmed others.
"These grants will enable organizations to provide programs and services that meet the unique needs of their communities. They also align with the state's Violence Prevention Plan, which promotes prevention programs aimed at building safe and thriving communities by addressing individual and community trauma and communal violence," said ICJIA Acting Executive Director Delrice Adams through a press release.
The goals of the ICJIA National Violence Prevention Plan 2020-2024 include stopping violence and promoting safety; supporting children, youth and families; advancing equity in communities; and building healthy communities.
SRC serves all ages and genders of victims of sexual assault and their loved ones by providing individual, family and group counselling; legal and medical advocacy; case management; and awareness/prevention programs for community members and professionals. The services are free and confidential.
The center operates a 24-hour helpline, 217-446-1337 or 1-866-617-3224, which is staffed by trained local professionals and volunteers to provide assistance and answer questions.
When the center moved to Danville, Sheridan said the Danville site was more central and offered more space. They have a staff of about 20 people.
A downtown 5K fundraiser was also recently announced for the center as part of Danville's First Fridays in Town.
This will be the first Glow Downtown 5K in downtown Danville on Friday March 4th. Registration for the race will be from 5:00 p.m. to 6:00 p.m. at Temple Plaza. This is for checking in, picking up t-shirts, and getting shiny paint or shiny jewelry. Runners will gather between Walnut and Vermilion Streets to begin the race at 6:30 p.m. Runners will pass through lit downtown Danville, then north on Hazel Street to Springhill Cemetery. Participants will walk the lantern-lit paths of the cemetery and then return to downtown Danville to the finish line. There will be sparkle, music and fun during the night race.
Registration is $12 and a t-shirt is $18, with 100% of proceeds benefiting the Survivor Resource Center. The last day to register with a t-shirt is February 18. https://www.signupgenius.com/go/10C0F44ACAF2D A3FEC43-glow. Bad weather date: tentatively April 8.
Sheridan said he was grateful to the city for providing fundraising proceeds to the center.
The glow theme fits well with the Glo Bingo fundraisers they already have, she said.
"It's such a unique event and it looks like it's going to be a lot of fun," she said.