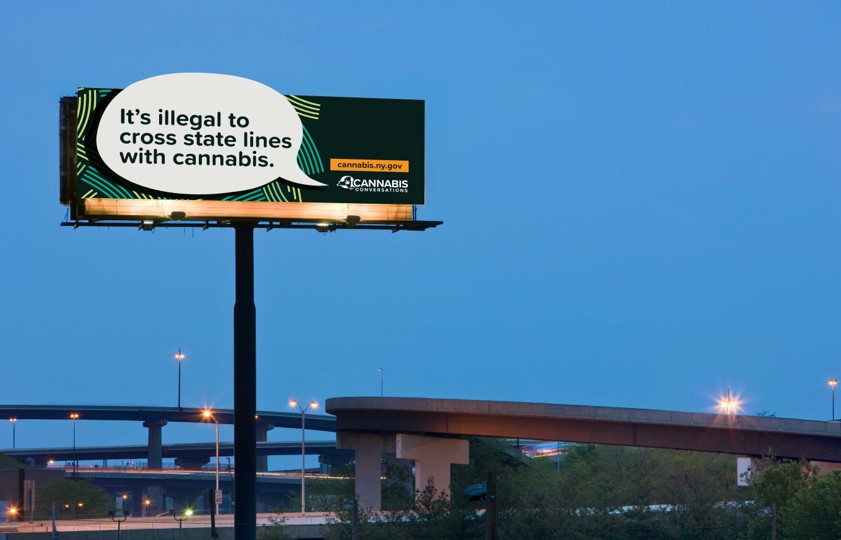 New York launches its first cannabis education campaign
New York wants to educate its citizens about cannabis laws, including who can use it, where to use it, and how to use it safely.
On Monday, New York State Governor Kathy Hochul announced the first "Cannabis Conversations" public education campaign that includes English and Spanish language public service advertisements aired on television, radio, on public transport, on billboards and on social networks.
Public service announcements began on Monday and will run for about three months.
The first post centers around a 30-second message highlighting the state's legalization of cannabis for adults over 21, encouraging drivers not to drive while intoxicated, keep second-hand smoke away from people, and store cannabis safely.
The campaign builds on the first effort to raise public awareness earlier this year through virtual "Cannabis Conversations" where the Office of Cannabis Management (OCM) hosted virtual awareness sessions in 10 regions across New York.
It was developed by the CMO following a review of education campaigns in other states that legalized adult cannabis use before New York State. It was designed in partnership with the Office of Addiction Services and Supports, the Department of Health and the Governor's Traffic Safety Committee.
"With the 'Cannabis Conversations' campaign, we continue our commitment to providing New Yorkers with the information they need to safely navigate the new cannabis law," Governor Hochul said in a statement.
"Education is the best tool to keep New Yorkers healthy as we continue to grow this safe, inclusive and equitable industry."
Read more: New York says first pot retail licenses should be granted to people with cannabis convictions
Read more: New York governor to create $200 million fund for cannabis equity applicants
Cannabis Control Board Chair Tremaine Wright said the campaigns are intended to provide New Yorkers with the initial information they need to stay safe and healthy as the new industry continues to develop.
"Meanwhile, we are working hard to build this new industry, and as it continues to evolve, so will our public education efforts with future campaigns addressing a growing range of health and wellness messages. safety," Wright said.
The executive director of the advocacy group Drug Policy Alliance, Kassandra Frederique, said the campaign was key to establishing statewide literacy of the new cannabis policy.
"New Yorkers have experienced decades of banning, patchy enforcement and misinformation with increasing intensity," Frederique said.
"We hope this is just the beginning of a strong state public education that not only teaches people what the law is, but includes considerations about consumerism, how to become an entrepreneur and where to get help. help if you need it."
Last month, the CMO released proposed retail market regulations reserving licenses for individuals who have been convicted of cannabis-related crimes in New York State before March 31, 2021, the date by which New York's adult use laws went into effect.
In January, Governor Hochul presented in her state of the state document a US$200 million fund to help marginalized candidates establish cannabis businesses.
Like Mugglehead on Facebook
Follow Natalia Buendia Calvillo on Twitter