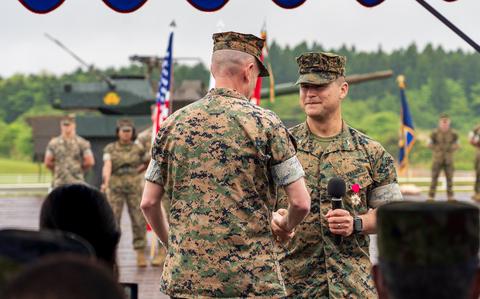 Marines swap commanders for combat training center near Mount Fuji
Colonel Robert Bodisch on Tuesday completed his three years as commandant of the sprawling Marine Corps training center at the foot of Mount Fuji, a tenure that included a number of "Fuji Firsts."
Under the direction of Bodisch of the Combined Arms Training Center Camp Fuji, the Marines held their first-ever fixed-wing close air support exercise with American and Japanese jets at the East Fuji maneuver area.
They also held a new exercise, dubbed Shinka, with Japan's Ground Self-Defense Force, Camp Fuji spokeswoman Emily Gray told Stars and Stripes via email Tuesday.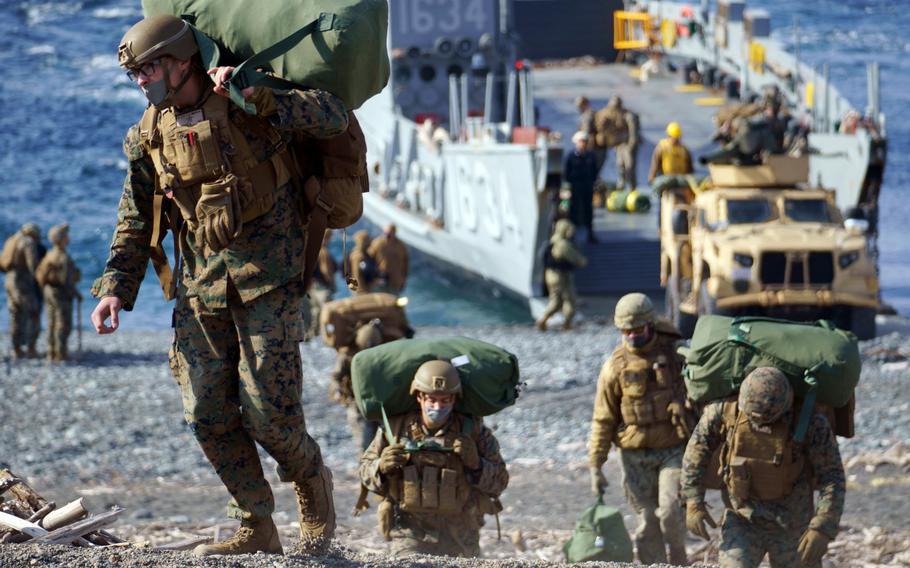 Surrounded by fellow Marines and representatives of the Japan Self-Defense Forces, Bodisch, who took over the training center in June 2020, thanked his colleagues and family for their support.
"It has been an absolute pleasure to work here at Camp Fuji," he said during the ceremony, which was streamed live on Facebook.
Bodisch was awarded the Legion of Merit for his achievements, including developing closer ties with his Self-Defense Force counterparts and revitalizing the Numazu Beach training area, which had been largely unused for more than 30 years. years.
Marines and Japanese troops resumed using the beach last year for exercises with the stated goal of helping the United States and its allies prepare for an emergency or crisis in the region. The two are rebuilding their relationship as China claims dominance in the Indo-Pacific region.
Bodisch's successor, Col. Neil Owens, most recently served as deputy chief of staff for government and external affairs at Marine Corps Installations Pacific. A native of Medford, Mass., he has a background in strategy and international business.
"I really share [Bodisch's] philosophy," Owens said at the ceremony. "I just want everyone to know that I will continue the great work that has been done here."
Just a few miles from the Mount Fuji base, the 309-acre area includes live-fire ranges, maneuvering areas, and a runway used for training by the U.S. military from across the Indo-Pacific region.
The Marines shared the area with nearby Japanese Ground Self-Defense Force Camp Takigahara. Together, the two bases have a training area of ​​approximately 36,000 acres.
Owens graduated from George Washington University in 1994 with a bachelor's degree in history and joined the Marine Corps in 1995. He received a master's degree in strategy from the University of New South Wales and another in strategic studies from the US Army War College.
He also holds secondary specialties in northeast regional affairs and as an adviser to foreign security forces, according to his biography.
Over the years, he served with the 31st Marine Expeditionary Unit and III Marine Expeditionary Force from Okinawa, deployed to Afghanistan as an Afghan National Army Corps Advisor, and served as Chief of Joint Operations Command – Iraq.