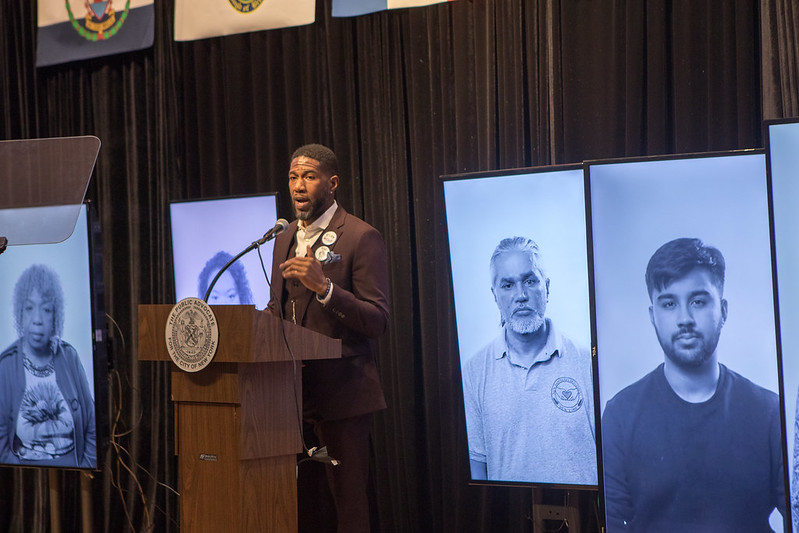 Leading immigrant advocacy group endorses Jumaane Williams for governorship
Public Defender Jumaane Williams (Photo: Office of Public Defender Jumaane Williams)
---
With more than 23,000 members across the state, Make the Road is the largest member group of immigrant advocates in New York City and its political arm is throwing its weight behind Jumaane Williams' bid for governor this year.
Make the Road Action's endorsement is the latest in a recent string of progressive endorsements announced for Williams, along with other groups and elected officials such as New York Communities for Change, New York Progressive Action Network and City Council members. Alexa Avilés, Tiffany Caban, Jennifer Gutiérrez, Lincoln Restler, Julie Won and Sandy Nurse.
Williams, the New York City public advocate and a Brooklyn Democrat, is running in the June gubernatorial primary against Governor Kathy Hochul and U.S. Representative Tom Suozzi, who represents much of Nassau County and a part of Queens. Two other Democrats, Attorney General Letitia James and former New York Mayor Bill de Blasio, had both explored offers but have since either given up or decided not to run, leaving Williams as the progressive candidate in the race against her two more centrist opponents.
With her history of progressive activism and good faith, Williams was the unanimous choice for Make the Road Action, which previously endorsed Williams' re-election bid last year and her unsuccessful campaign for lieutenant governor. in 2018. In the latter campaign, Williams lost to Hochul as she sought re-election alongside then-Governor Andrew Cuomo. The approval process, which involved an issues questionnaire and candidate interviews, was between Williams and Suozzi; Hochul did not participate.
"We need a governor who will stand up to protect tenants and keep community members in their homes, fully and permanently fund excluded workers, and ensure that all New Yorkers have access to healthcare," said Theo Oshiro, co-executive director. of Make the Road Action, in a statement accompanying the endorsement. "Jumaane Williams is deeply committed to all of these issues, and he has a track record as a public advocate, council member and community organizer to prove it."
Williams has been aligned with Make the Road Action priorities for years and has pushed with him and other allies for a variety of progressive policies, many of which have come to fruition in recent years with Democrats taking full control of the city and the New York State. Governments. These include police reform, making New York a "sanctuary city," driver's licenses for undocumented immigrants, the New York Dream Act, the $2.1 billion Excluded Worker Fund enacted into law. last year, and more.
Currently, Make the Road Action is pushing for a list of bills and budget measures, all of which Williams supports, at the state level that will help New York immigrants and workers of color. "I'm proud to once again have the support of Make the Road Action, an organization I've worked with for a long time to bring justice and fairness to our city and state for immigrants, working families and renters," said Williams said in a statement. . "As we work to rebuild and renew New York from the ongoing pandemic, we cannot return to normal because normal has not worked for most people. As Governor, I have look forward to continuing to partner with the broad coalition of Make the Road Action to bring transformational change to our state."
One of Make the Road Action's top priorities is securing a $3 billion injection for the state's Excluded Workers Fund, which was created during the pandemic to help those who were ineligible for federal aid, mostly undocumented immigrants. The $2.1 billion fund has been depleted and Governor Hochul has not proposed additional funds for it in her executive budget for the next fiscal year which begins April 1.
"Migrant workers were on the front lines of the pandemic and won a historic victory to fund excluded workers. But the Excluded Workers Fund was meant to reach all excluded workers, and now it has run out," Westchester-based Make the Road Action member Olga Vásque said in a statement. "Jumaane Williams understands that excluded workers need an additional $3 billion in funding and a permanent solution. He also knows that too many of us are at risk of being displaced from our homes and excluded from medical coverage due to our immigration status, and he stands with us for a good cause and coverage for all. He understands what life is like in our communities, and I'm thrilled to encourage my neighbors to vote for him.
Passing eviction legislation "for a good cause" is a top priority for Williams and Make the Road Action, among other progressives, and has gained momentum in the state legislature. It would give tenants the right, among other things, to the automatic renewal of leases. Supporters of the bill say it has become especially urgent since the state's eviction moratorium expired Jan. 15 and after the $2.2 billion emergency rent assistance program of the pandemic era of the state ran out of funds. Hochul also did not include additional funds for ERAP in his budget, but earmarked $2 billion for pandemic relief that could be used in part for that purpose in negotiations with the Legislative Assembly. . She has also repeatedly called on the federal government for much more funding for rent relief, including a request issued Wednesday for $1.6 billion for 174,000 unfunded tenant applications.
Other measures Make the Road Action wants to see approved include the Coverage for All Bill, which would give undocumented immigrants access to health insurance through the public low-income option of the state (groups like MRA Action also pushed for years to pass the New York Health Act, which would create a single-payer health insurance system in the state); passing the Solutions Not Suspensions Act, which would limit the use of school suspensions, which tend to disproportionately harm children of color; the creation of a billion dollar housing voucher program for those at risk of homelessness and those experiencing homelessness; passage of the Stop Violence in the Sex Trades Act, which would decriminalize sex work, among other measures; expanded access to child care services; and other proposals.
For Williams, the endorsement is among several he has received this week, and others in the preceding weeks and months, such as New York City Comptroller Brad Lander and President of the borough of Brooklyn, Antonio Reynoso, both Brooklyn progressives, as well as the former candidate for mayor of Buffalo. India Walton.
"Jumaane Williams is a rare public servant, one who has dedicated his time to empowering all New Yorkers," Nurse, a Brooklyn councilman, said in a statement endorsing Williams on Tuesday. "We need progressive leadership in Albany that will empower and be accountable to working-class communities in this state, and that's exactly what Jumaane would provide."
For his part, Hochul has raised millions in the field and also racked up endorsements, including from many county Democratic party chairmen and members of the state legislature, among others.
On Thursday, New York Communities for Change, an advocacy group focused on housing, economic justice and climate change and claiming more than 20,000 members, also endorsed Williams. "Make no mistake: Jumaane knows us, and we know Jumaane. He is up against a very well-funded corporate Democrat, which is why we urge other grassroots groups in the state with large voter bases to step down," said Marie Pierre, chair of the board of directors of the NYCC, in a statement. "From Brooklyn to Buffalo, it's time for progressives to unite around Jumaane and head into this Democratic primary with full and forceful support for his campaign. Our state needs a strong Democratic primary in which Hochul is held accountable for its failure to deliver to tenants and communities hardest hit by COVID. Jumaane is ready to hand over that responsibility, present a better alternative to Hochul, and campaign to win.