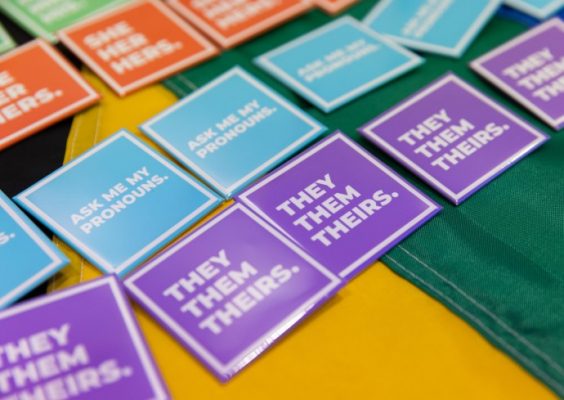 International Pronoun Day is October 20
Campus and community
On Wednesday, October 20, the University will once again celebrate International Pronouns Day (IPD), a global initiative created in 2018 that aims to make respect, sharing and education of personal pronouns a common occurrence.
Referring to people by the pronouns they themselves determine is a fundamental act of human dignity. Many transgender and gender nonconforming people are repeatedly misinterpreted and referred to by incorrect pronouns, which can be an uncomfortable, anxious and humiliating experience.
Here are some ways that members of the University community can learn more about the affirmative use of pronouns and celebrate the multiple and intersecting identities of people within the University community.
Visit the LGBTQ Resource Center, located at 132 Schine Student Center. They will be handing out pronoun pins and pronoun ribbons (which can be attached to a badge) throughout the day!
Download a Zoom background showing your pronouns and promoting International Pronoun Day from the Preferred Pronouns, Gender and Names Advisory Council (PGPNAC) Pronoun Day website.
Update your pronouns in MySlice. Do this:

Log in to MySlice.
Select the "Personal profile" thumbnail.
Click on the "Biographical" tab.
Click on the "Pronoun" link.
Select your personal pronoun.
For more information on personal pronouns, visit answers.syr.edu / PronounFAQ. If you have specific questions, send an email to [email protected]