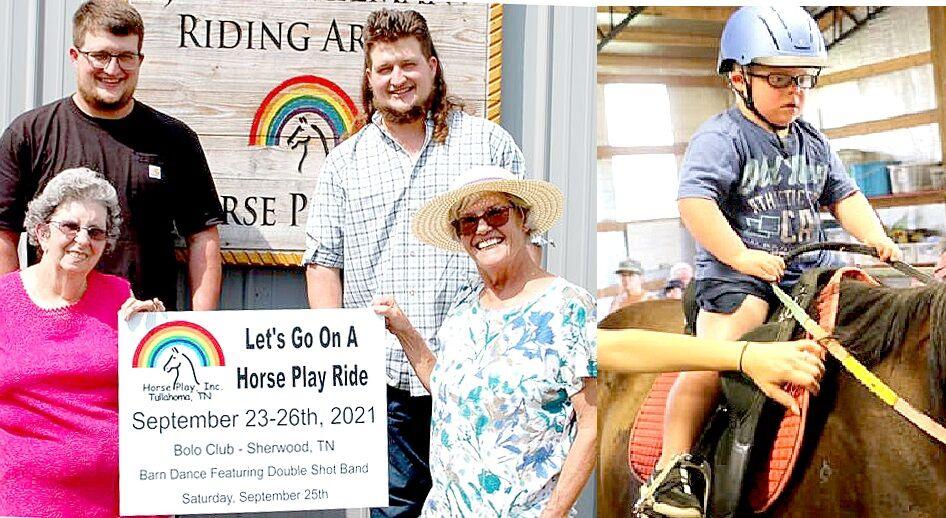 HorsePlay Inc. Family Fundraising Event Begins Today in Sherwood | Local News
HorsePlay will be hosting their big fundraising event, "HorsePlay's Trail Ride", today through Sunday at the Bolo Club, 738 Sinking Cove Road, Sherwood.
The event will start today at 2 p.m. and end Sunday at noon.
The fun will include a country hike, a live auction, and the annual HorsePlay dance with the Double Shot band.
All proceeds will go to HorsePlay to help support its therapeutic riding program for children with mental or physical problems.
There are plenty of places to camp, so bring your horse trailers, RVs, tents or you can choose to rent a cabin. For more information on renting the Bolo Club, visit theboloclub.com.
Horses will also be available for hire for those who do not have a horse or the means to transport one. Cyclists can choose to follow the guided trail or explore on their own.
For more information on horse rentals, trails, parking and more, call 931-598-0702. Those who prefer not to ride are invited to attend and enjoy the beautiful fall weather.
Bingo cards cost $ 5 on Fridays or $ 20 for five cards with great prizes to present.
Cornhole will be available all weekend for fun family or team activities.
Fishing will be available to holders of a TWRA fishing license. Bring your own canoe or kayak to cruise down beautiful Sinking Creek.
Double Shot will be performing in the Barn Loft on Saturday and concessions will be available for purchase.
Homemade dishes will be prepared on site with chili and toppings served tonight for $ 10 per person.
On Friday morning, a tater-tot casserole will be available with a drink for $ 10 per person and dinner will include beef or vegetable soup with toppings for $ 12.
Saturday morning breakfast will consist of $ 10 burritos and dinner will be a barbecue with toppings at $ 12.
Sunday morning continental breakfast is $ 10.
The Double Shot group is made up of Lynchburg-born Andy and Lee Huffer, who have been performing since 2018.
While Double Shot plays country and western music, they play everything from Merle Haggard to Usher as well as audience favorites like Luke Combs and Alabama.
"We just want to keep growing," Andy said. "Our goal is that as long as we grow and move forward, we accomplish what we want to accomplish. "
Lee said his end goal was to be able to perform on national and world tours.
Playing at events like HorsePlay's fundraiser is a chance for the Huffer brothers to give back to those who have invested their time there and to stay in touch with their roots.
They said they love to play music and are excited to perform for a cause that will help children have an experience they don't often have.
Andy and Lee said they were excited to play Bolo Club as they have the chance to perform in a barn which is an idea they wanted to do.
"Playing in a loft is going to be cool, and I can't wait to see all the kids," Lee said. "I don't know what to expect, but I can't wait to see what we got into."
HorsePlay Inc. is a non-profit organization located at 815 Westside Dr., Tullahoma.
The organization offers recreational riding opportunities for children with mental or physical problems.
The goal of the organization is to help students build muscle strength and coordination, develop relationships with horses and people, and have fun along the way.
The program is managed and certified under the guidelines of the Professional Association of Therapeutic Horsemanship International.