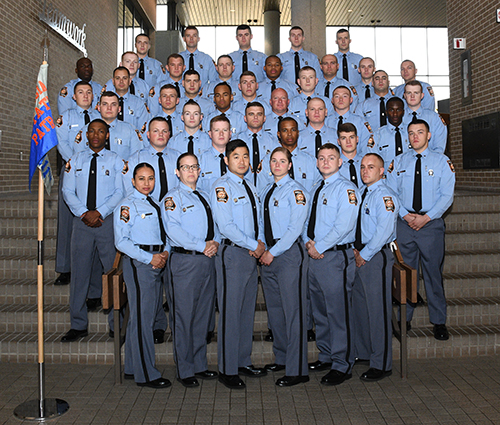 Georgia State Patrol recently graduated from the 111th Trooper School
The Georgia State Patrol recently graduated its 111th Trooper School at the Georgia Public Safety Training Center (GPSTC) in Forsyth.
After 32 weeks of intense training, 41 new soldiers will report to one of 52 patrol stations throughout the state.
Governor Brian Kemp was the keynote speaker and took the oath of office. Additionally, remarks were delivered by Col. Chris C. Wright, Commissioner of the Department of Public Safety (DPS), and Capt. Clayton Kicklighter, Director of Training.
Trooper cadets spend 20 weeks at the academy and 12 weeks in field training. The Georgia Peace Officer Standards and Training Council (POST) requires that all peace officers receive a minimum of 408 hours of basic warrant training. Upon completion of Trooper School, these newly graduated soldiers have received over 1400 hours of training, including driving, defensive tactics, vehicle stopping, Spanish, criminal law and procedure, weapons fire fighting, accident investigation and various other training.
During his remarks to his classmates, Cavalier Matthew Bellflower, class president, reflected on their journey through the School of Cavaliers. "We earned this, it wasn't given to us," Bellflower said. "I challenge each of you to develop your individual professionalism that coincides with the professionalism of the Georgia State Patrol."
Private Townsend also received a $5,000 scholarship for a master's degree from Reinhardt University for having the highest academic average, 95.55, in his class. This scholarship is named after CPL Chadwick LeCroy who was killed in the line of duty on December 27, 2010.
Four of the graduates received special honors for their best performances in various skills. The winners were:
Riding Skills – Rider Cameron Fernandez
Gun Mastery – Cavalier Dylan Smith
Top Gun – Jumper Christopher Cronsell
Highest Academic Average – Rider Ryan Townsend
In addition, the following graduates were recognized for their leadership: Cavalier Joseph Elsberry, Vice President; Cavalier Ryan Townsend, secretary; Cavalier Joseph Song, chaplain; Trooper Cedric Riche, Sergeant-at-Arms; and Private Devin Story, flag bearer.
Each commissioned soldier will report to the following assigned position: