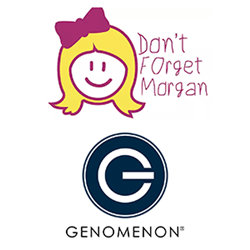 Genomenon partners with Don't Forget Morgan to bring new hope to rare diseases
"We are grateful for the partnership with Genomenon and the support they will provide as we seek treatment and a cure for all children suffering from BPAN." –Kelly Kozole, Executive Director, Don't Forget Morgan

ANN ARBOR, Michigan (PRWEB)
February 22, 2022
Genomenon, Inc. recently announced a partnership with Don't forget Morgana, a non-profit support organization focused on rare disease patients living with beta helix protein-associated neurodegeneration (BPAN), a progressive disease causing abnormal iron deposits in the brain leading to profound developmental delays. The goal of this collaboration is to provide resources to help researchers and encourage pharmaceutical companies to invest in the search for effective treatments for BPAN, as well as to empower patient care teams with actionable genetic information.
Michigan-based Don't Forget Morgan was founded in 2020 by Kelly Kozole, senior vice president of the Detroit Lions and Christina Ftikas, senior manager at Xerox Corporation, mothers of children with BPAN. Bound by a common struggle, Kelly, Christina and other "BPAN Moms" have worked tirelessly to make the case to decision makers at leading hospitals and research institutes for more aggressive BPAN research. As a result of these efforts, Don't Forget Morgan has funded research programs at major facilities including the University of Michigan and Sanford Research, and co-funded with the Harper's Hope Foundation a gene therapy research grant in Massachusetts. GeneralHospital. Additional grants are currently under consideration. In addition, a BPAN clinic focused on personalized medical care has been established at Children's Hospital of Philadelphia (CHOP). These activities all serve a common goal: to support families struggling with this ultra-rare disease by facilitating access to scientific research and community resources.
Contributing to this vision, Genomenon was able to use artificial intelligence (AI) to rapidly identify, assemble and deliver an organized "genomic landscape" with 129 unique genetic variants found in WDR45, a gene linked to BPAN. These annotated genomic data provide comprehensive insight, as well as in-depth information, to all researchers working on the disease.
"The goal of our partnership is to accelerate the discovery of a treatment for BPAN. The comprehensive genomic landscape of this genetically-mediated disease allows researchers to more quickly identify molecular drivers of disease and validate drug targets," said Mike Klein, CEO of Genomenon. "We hope to cut years off the drug discovery process through the use of this genetic knowledge and shorten the time to develop a treatment that can save the lives of these children."
"We are grateful for the partnership with Genomenon and the support they will provide as we seek treatment and a cure for all children with BPAN," said Kelly Kozole, executive director of Don't Forget Morgan.
The Don't Forget Morgan team is made up of volunteer professionals with diverse backgrounds and perspectives in rare disease research, drug development, patient advocacy, and clinical care. Their ability to access the genomic landscape for BPAN will play an important role in accelerating the global BPAN research process. Together, Genomenon and Don't Forget Morgan not only work to support families through those critical early years of diagnosis, but also provide a solid foundation for pharmaceutical companies to begin the search for a cure – with a resource that would otherwise take years. to assemble.
For a first-hand perspective on how this collaboration is creating hope for patients and their families, read our guest blog featuring a Don't Forget Morgan advisor and a BPAN mom.
About Genomene
Genomenon is an AI-driven genomics company that curates global genomic knowledge to connect patient DNA to scientific research in the diagnosis and development of treatments for patients with rare genetic diseases and cancer.
For more information, visit Genomenon.com
About Don't Forget Morgan
Don't Forget Morgan is a US-based 501(c)(3) nonprofit organization dedicated to raising awareness of BPAN while providing a shared sense of community for families with children who have BPAN. They are also raising funds for BPAN research in the hope that treatments can be developed to help Morgan and children like her maintain the growth and progress they work so hard for.
For more information, visit RememberMorgan.org
Share the article on social networks or by e-mail: