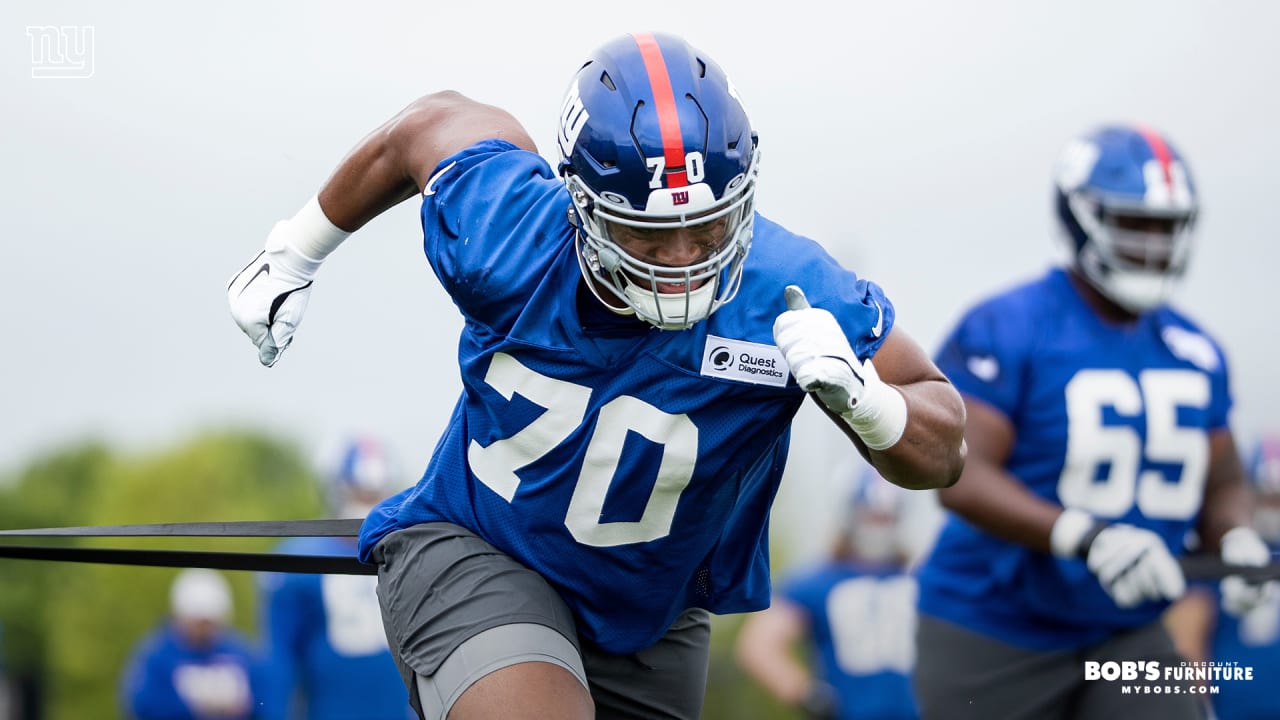 Evan Neal sees his 'dreams come true'
While the transition from college to pros is always an adjustment, Neal is taking advantage of Daboll spending time coaching at 'Bama on Nick Saban's side.
"Being Coach Dabs is from Alabama, it's pretty similar schematically," Neal said of learning a new offense. "There are some nuances in the verbiage and terminology and things like that, but from a technical standpoint, that's pretty much what I did."
When rookie camp ends on Sunday, Neal won't have long to wait before the veterans return to the Quest Diagnostics Training Center. OTAs start Monday, and the rookie lineman is eager to start building chemistry with Daniel Jones, Saquon Barkley and the entire offense.
"It's going to be pretty cool," Neal said. "I'm just excited to go out there and do my best to help the team for sure. I got a chance to shake Daniel's hand, he's a pretty cool guy. I don't think I've met Saquon yet, so I'm just excited to continue to build a relationship with these guys and help the team."
* When building his coaching staff, one of Daboll's most important hirings was bringing in Mike Kafka as offensive coordinator. Although the two had never worked together before, it didn't take long for Daboll and Kafka to develop a solid relationship.
"Yeah, that was awesome," Daboll said of his work with the former Chiefs QB coach. "First of all, he's a good person. He's a good father, a good husband, very easy to talk to. Smart. Obviously he went to Northwestern. But smart in terms of football too I think he had a good upbringing in this business. He's 34, but he learned a lot from Coach Reid and the things they did in Kansas City. He has some really good ideas and thoughts on some things they did there.
"Easy to work with in terms of integrating and mixing systems of how we do things and trying to find the best thing for the Giants. Good leader for the guys. A little reserved, if you will, but it compensates me a bit too, which is good.
Kafka was a fourth-round pick of the Philadelphia Eagles in 2010. After two years in Philadelphia, he spent time with six teams from 2013 to 2015.
According to Daboll, the offensive coordinator's experience as an NFL quarterback gives Jones and the entire QB room an extra boost.
"I think experience in this position is always helpful," Daboll said. "It doesn't necessarily mean you're going to be a good coach, but he started off on the right foot. He started at Northwestern and sort of worked his way up. He's got really good eyes for the job. He sees it. is obviously as if he were playing it.
"But he's really good at teaching, which is an important part of coaching. You have to be a good teacher and make sure they can see it through your eyes and have good communication with your players. J I was happy with him."