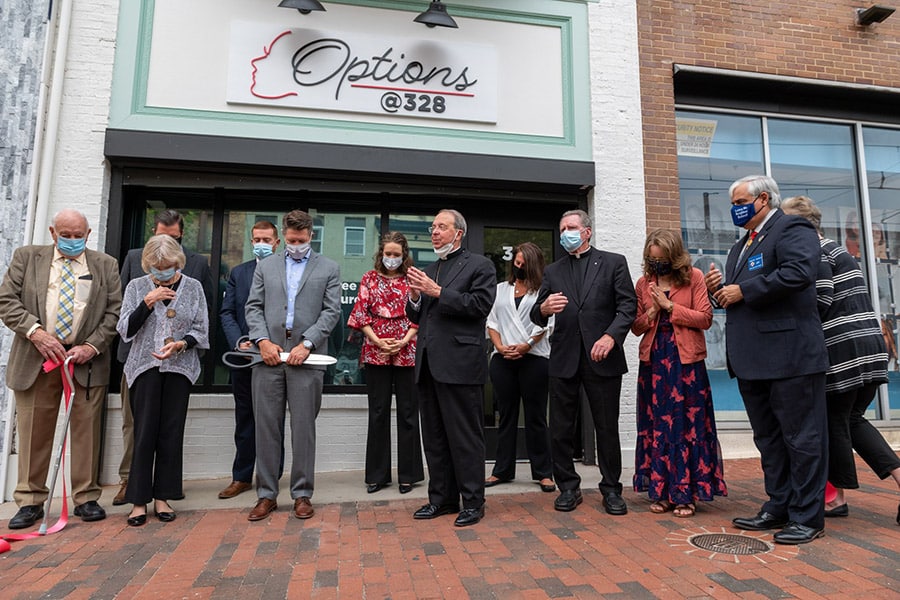 Bishop Lori calls for increased support for pro-life efforts
As Americans await a final decision from the U.S. Supreme Court on overturning the Roe V. Wade ruling legalizing abortion, Baltimore Archbishop William E. Lori has called on Catholics to pray for an end abortion and to redouble efforts to support pregnant women and their families.
While a draft of the court opinion released on May 2 indicates that the High Court appears set to overturn the controversial 1973 decision and the 1992 decision Planned Parenthood v. Casey who confirmed Roe, Bishop Lori warned that it hasn't happened yet.
"Many people worked and prayed very hard for this day," said Bishop Lori, chair of the United States Conference of Catholic Bishops Committee on Pro-Life Activities. "And so I think the pro-life community would be happy to see a final court ruling (which overturns Roe vs. Wade and Casey). But we would also recognize that our work is not done because it does not end abortion in the United States. It just brings it back to the United States.
Archbishop Lori said the primary work of the church and the pro-life movement is "always conversion of mind and heart".
"It helps people understand and appreciate the value of life, the value of unborn life and the moral obligation we all have to care for mothers in need," he said. "Conversion of mind and heart is first, and from conversion of mind and heart comes service."
Bishop Lori encouraged more parishes in the Archdiocese of Baltimore to engage in a program launched by the U.S. bishops called Walk with moms in need. Outreach, active in more than 45 local parishes and many more across the country, raises awareness of already existing resources available to pregnant women and their families.
Several pro-life pregnancy resource centers operate across the archdiocese, he added, which help women choose life. the Gabriel Network also provides assistance to pregnant women in need.
"I think it's important to look at all of these services and say, 'How can we reach out to moms in need more intensely through our charity programs or our education programs?' said Bishop Lori.
He said the church must consider ways to expand the work of other pro-life efforts such as Project Rachel, which helps people in mourning caused by abortion. At the same time, the church must also continue to advocate for public policy initiatives that support women and their families, he said. This includes the Child Tax Credit, the Supplemental Nutrition Assistance Program for Women, Infants and Children and more.
Maryland, which has some of the most permissive abortion laws in the country, is expected to become a site where women will come to have abortions from other states that restrict or ban the procedure if Roe v. Wade. Archbishop Lori said the church must also reach out to these women.
"We really need to help get the message out that even if you come to Maryland thinking you're going to have an abortion, once you get here there are compassionate alternatives to abortion," Bishop Lori said. "Ultimately, we will need to persuade as many people as possible of the compassion and justice that underpin the church's pro-life efforts."
The Archbishop noted that [email protected], a pro-life pregnancy resource center run by the Center for Pregnancy Concernsis located right next to a Planned Parenthood facility on Howard Street in Baltimore.
"It's not big, but it's very compassionate and loving," he said. "I think we are blessed to have a number of these pro-life pregnancy centers throughout the Archdiocese. I think we really have to support them.
While Archbishop Lori and other Catholic leaders have spoken out in secular media in support of the pro-life cause, the archbishop acknowledged that the pro-life stance does not always find an audience in popular culture.
"The voice of the church is making itself heard," he said, "but it's generally muted compared to the massive time and attention that the secular media usually gives to the pro-abortion side of things. I think it is important that people like me, bishops and priests, speak out publicly. However, I would just like to remind everyone that the laity are really the main protagonists in the evangelization of culture. There are many knowledgeable, compassionate, truthful and passionate voices for the cause of life. And I think it's important that those voices be heard.
The Archbishop added that "it is important that lawmakers, policy makers and the media hear from pro-life Catholics."
"Our efforts are always peaceful, always truthful, always rooted in justice," Bishop Lori said, "and the cornerstone of justice is the dignity of the human person and always awash in compassion."
Email George Matysek at [email protected]
Copyright © 2022 Catholic Review Media
To print