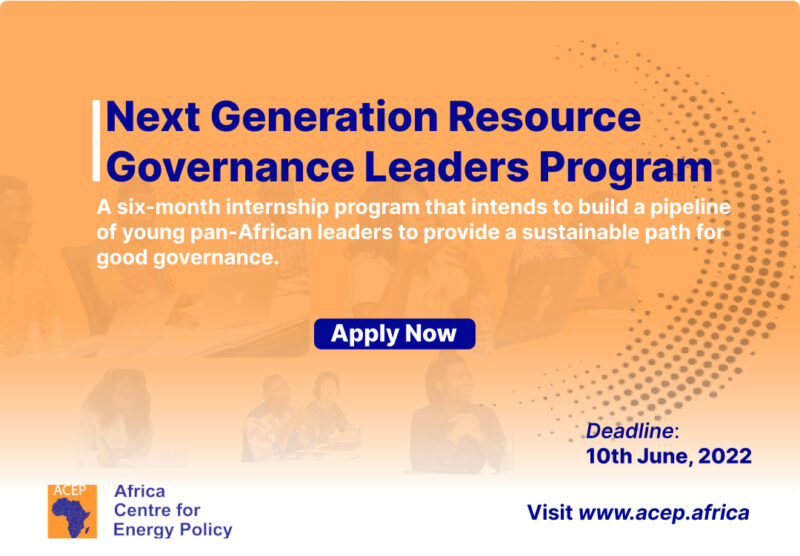 ACEP Next Generation Resource Governance Leaders Program 2022 for young Africans
Deadline: June 10, 2022
Applications are open for the ACEP Next Generation Resource Governance Leaders Program 2022. The program is a six-month internship that aims to balance a dose of theory with real-world application and equip participants with the required multidisciplinary intellectual development, practical skills, and research abilities to think more innovatively to solve complex governance problems. The program is also a strategy to build a pipeline of young Pan-African leaders to provide a sustainable pathway to good governance.
The core of their ambition is to train and nurture young people in a supportive work environment through a structured capacity development process. These will include training on transformational leadership development, professional and career development, and digital communication and technology skills. Essentially, beyond technical training in resource governance, trainees will be exposed to the tools and guidance needed to set and achieve realistic personal and professional goals, coupled with comprehensive and ethical leadership training.
Responsibilities
NextGen Leaders will provide timely and quality evidence-based policy analysis, training and advocacy through strong collaborations, ensuring that the African Center for Energy Policy (ACEP) remains a thought leader in the policy space Africa's energy and extractive sector.
Contribute to the drafting of research reports and policy briefs on the energy and extractive industries sector in Africa.
Support media engagement activities on ACEP findings and stance on energy and extractive sector issues in Africa.
Contribute to the planning, implementation and evaluation of annual programs
Support organizational development activities.
Support for resource mobilization efforts, including grants and proposal writing.
Contribute to program management, monitoring and evaluation (M&E) activities.
Advantages
CAPE will provide:
Support for growth and development by:

Training and development opportunities.
Coaching, mentoring and peer support.
Create space for creativity and innovation.

A generous stipend and free lunch for the duration of the internship.
Decent accommodation for international interns.
Eligibility
Applicants must be a young African who demonstrates a passion for ensuring that the vast extractive resources in Africa translate into sustainable and inclusive development.
Among other things, the candidate must have:
Relevant academic qualifications, preferably in one or more combinations of economics (including energy), engineering (petroleum/electricity), oil and gas management, public policy, law, political economy , development studies, development finance, project management, communications, statistics, and mathematics, etc.
Good writing skills with clarity and logical flow of thought.
Adequate knowledge of relevant qualitative and quantitative analytical tools (R, Stata, Eviews, NVivo, Atlas.ti etc.).
Ability to multi-task, set priorities and meet multiple deadlines.
Good relationship and team spirit.
The ability to think creatively and take the initiative to solve problems.
A good sense of ownership and responsibility for one's decisions and actions.
A strong sense of leadership.
Application
There would be an entrance test and interview as part of the recruitment process. Only the preselected candidates will be contacted.
For more information, visit CAPE.